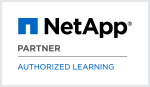 StorageGRID Administration (SGWSADM)
Course Overview
NOTE: In ONTAP 9.7, NetApp has released enhancements in Data Protection and Encryption, storage efficiency, hardware support, networking and security protocols, REST API's and much more. Fast Lane has added this content to the current ONTAP 9.6 Administration class to ensure you are getting the most up-to-date training available.
This course covers the basics of StorageGRID administration. You learn to use the Grid Manager to monitor and manage a StorageGRID 11.3 system. You learn to create and manage storage tenant accounts and users. You also learn how to configure information lifecycle management (ILM) rules and policies to manage object protection. You configure the StorageGRID NAS Bridge node for integration with legacy applications. Finally, you learn how to integrate a StorageGRID system into the NetApp Data Fabric. This course builds on the concepts in the StorageGRID Fundamentals course.
Who should attend
NetApp employees, partners, and customers
Course Objectives
This course focuses on enabling you to do the following:
Use the Grid Manager to monitor and manage a StorageGRID system
Create and manage storage tenant accounts and users
Configure information lifecycle management rules and policies
Learn about the different monitoring and administration interfaces and solutions
Configure and manage email notifications and custom alarms
Describe how StorageGRID can be integrated into the NetApp Data Fabric
Online Training
Duration 3 days
Classroom Training
Duration 3 days
Click on town name or "Online Training" to book
Schedule
Asia Pacific
Australia
Online Training

Time zone: Australia/Melbourne

Course language:

English

Enroll
Russia/CIS
Russia
St. Petersburg

This is a FLEX course in Russian language.

Time zone: Europe/Moscow

US$ 2,700.—

Enroll
Guaranteed date: Fast Lane will carry out all guaranteed training regardless of the number of attendees, exempt from force majeure or other unexpected events, like e.g. accidents or illness of the trainer, which prevent the course from being conducted.
Instructor-led Online Training: This computer icon in the schedule indicates that this date/time will be conducted as Instructor-Led Online Training.
This is a
FLEX
course, which is delivered both virtually and in the classroom.